RIB Quest (6.5m)
The Rib Quest 6.5m has proved extremely popular with our members, with its comfortable and sociable seating arrangement. Powered by a 150hp Mercury engine, it is perfect for exploring the Menai Strait with family or friends.
Max no. onboard: 6 persons (including the skipper)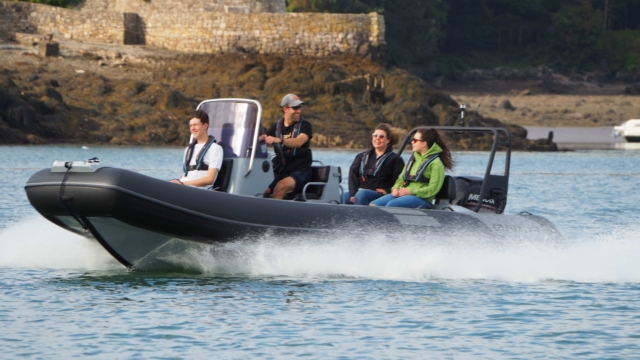 Finnmaster (6.4m)
Another new addition for 2022 is the Finnmaster S6. At 6.4m and with a super smooth Yamaha 120hp outboard it is a perfect combination between sporty and seaworthy. This center console boat allows you to fully enjoy a summer day, thanks to the many seating options and the easily convertible sun deck in the bow. The generous helm with the streamlined windshield guarantees protection from wind even at high speeds while the deep deck gives a great sense of safety and security under way.
Max no. onboard: 6 persons (including the skipper)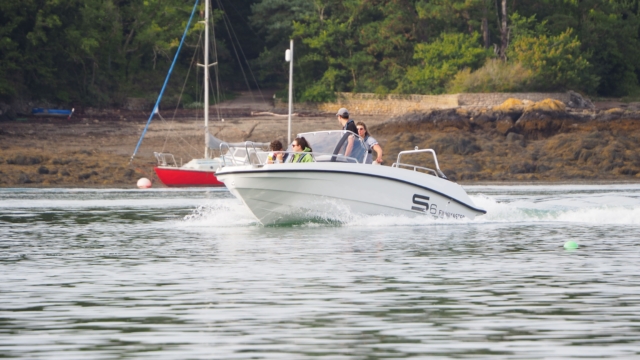 To make sure our boats are as fresh as they can be we do replace them quite often. In general we try to keep sizes between 6 and 7 meters, big enough to effortlessly handle the Menai Strait without being too daunting to helm. We use both RIBs and hard boats with engines between 100 and 200hp.
All our boats are fuelled in preparation for your visit. Fuel consumption varies according to a range of factors including how hard you drive the boats and whether you are towing water ski's or inflatables.
Each customer is different but our experience has shown 50 litres of fuel is more than adequate for a half day on the water and this is included within the hire. You will be charged the current fuel price for any fuel used above this threshold. The current fuel price can be found in the boat yard office.
As a member of The Marine Club you, your nominated drivers and passengers are insured. However, you are liable for any damage caused whilst the boat is on charter under your care.
Area of Operation – Puffin Island to Llanddwyn Island
The Marine Club boats are only able to operate within categorised waters, meaning they are limited to the Menai Strait This offers over 20 miles of coastal waters on which to explore, from Puffin Island at the north east end Llanddwyn Island at the south west entrance.